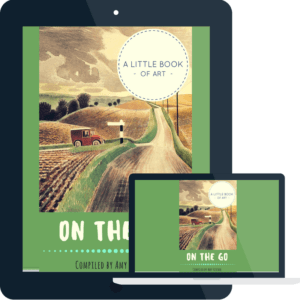 Share the World of Art with your Child
Beautiful collections of art formatted especially for Kindle, in themes your young child will love
With fifteen works of art, A Little Book of Art is an opportunity to nurture your child's interests
On the Go, the first in the series, is perfect for toddlers and preschoolers who love transportation of all sorts. From bicycles to boats, you and your child with both enjoy these lovely images.
Take your time over the pictures, talking about what you see. Ask your child simple questions like 'What do you see?' or 'What do you think is happening?' and watch where their imagination goes. Not only will this make 'tablet time' special as you share these conversations, but you will be exposing your child to the rich world of art and beauty.
Each Little Book of Art is available to download directly to your Kindle, so it's perfect whether you are out and about or around the home.
(By the way, that's an affiliate link. It just means I get a small commission if you buy the book – at no extra cost to you. More info.)
---
Excited about Little Books of Art?
I publish a new book every month, with new, fun themes. Join my dedicated email list to receive notifications of discounts, special offers, and new collections of art to enjoy with your little one.
(I'll only ever use your email for this purpose, and I'll never share it.)