What is leisure?
For many, the word brings to mind vacations, naps, even enjoying a quiet cup of coffee. It feels slightly self-indulgent, and yet much needed. In fact, we would quite like to have more time for it. Somehow, no matter how much time we make for hobbies, early bedtimes, or holidays, it is never enough. We face the work at hand, whether it's a job, raising kids, volunteering at church, or studying a course, and feel ourselves sigh as we face the grindstone again.
In his essay Leisure, the Basis of Culture, philosopher Josef Pieper turns this concept of leisure on its head, showing his readers that leisure is more than a break from work. In fact, if we view it that way, we will always feel selfish when we make time for it, and quickly worn out when we return to our jobs. Instead, leisure is an intrinsically valuable attitude of the spirit and a powerful Christian witness in today's frenetic, work-centric culture.
Leisure, the Basis of Culture is not long, but it is provocative – to the point that I had to write out my reflections on the book as blog posts! You can find the links here:
Chapter One: Work and Leisure as a Stay at Home Mom
Chapter Two: From Distraction to Leisure: Recapturing Peace in a Frenetic Culture
Chapter Three: Cool, Calm, and Contemplative: Deep Rest for Tired Moms
Chapter Four: Finding Freedom from Work for Work's Sake
Chapter Five: Impractical Faith: Worship is Sacrifice and Celebration
Leisure, the Basis of Culture Study Guide
This was my second reading of Leisure, the Basis of Culture. The first time, I read it quickly, in the exhaustion of caring for two young kids during a warm summer. I knew the essay held principles and concepts that I needed to meditate over to fully appreciate – but I couldn't manage it at that time. So I started over, read it again, took my time, forced asked my husband to read it with me, and attempted to fully engage in the book. I wanted to remember it this time around!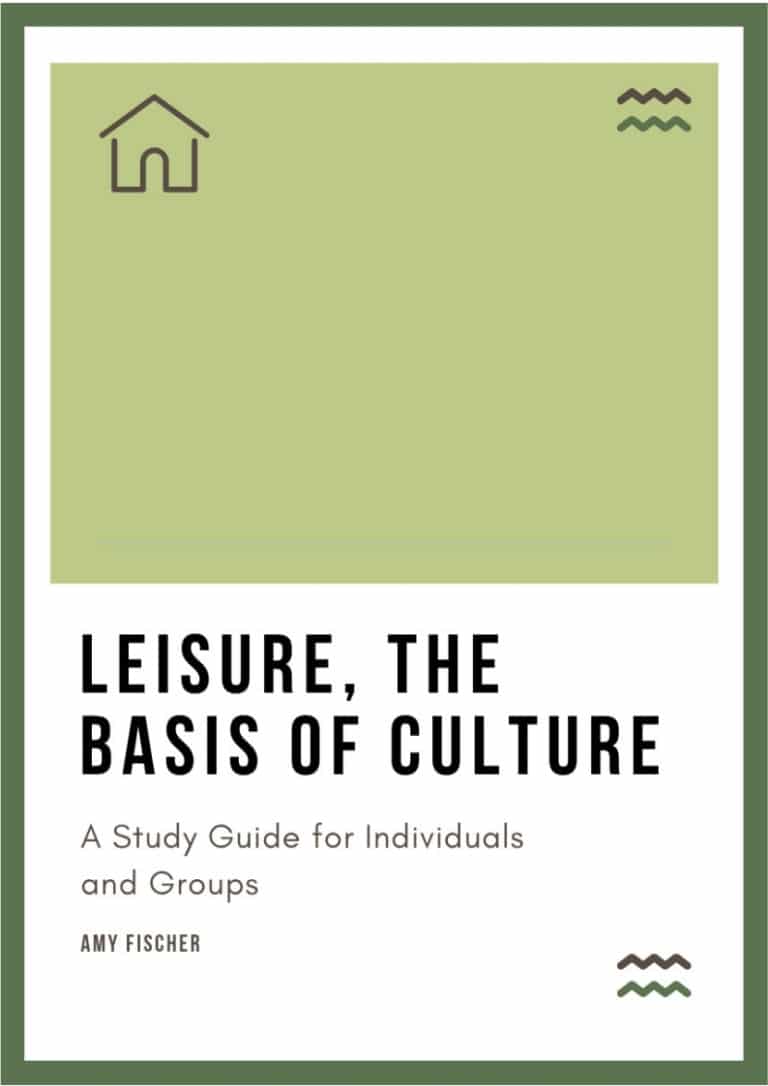 Out of these efforts was born a study guide companion for Leisure, the Basis of Culture. Whether you are reading this essay as an individual or as part of a book club, this study guide will serve as a framework to support your reading. It will help you understand the meaning of the text, engage personally with the principles, and consequently help you grow as a person.
Designed with both individuals and groups in mind, in this study guide, you will find:
Space to write your questions, thoughts, and notes
Questions designed to promote personal reflection and thoughtful conversation
Encouragement to put the principles in the book into your own culture and context
Inspired by the Charlotte Mason philosophy, as well as modern understanding of how learning and remembering occur, this study guide will help you develop your own relationship with Leisure, the Basis of Culture. Curious to learn more? Download the first chapter to preview!
Purchase the Study Guide for Yourself
Purchase the Study Guide for Your Group
---
Leisure, the Basis of Culture Around the Internet
If you're looking for more details about this essay, the Schole Sisters have published a chapter-by-chapter paraphrase of the essay!
Chapter Two: Part One, Part Two, Part Three
Chapter Five