Camping with Littles: Tips from our Trip
Last year, I decided on a whim that Carl and I should take our kids camping. I felt desperate to be outside and frustrated that I so often failed to get them outdoors. Camping would make this easy. They would be outside because there wouldn't be anywhere else to be. I wouldn't have to juggle naps and pushchairs, and Carl and I would be able to relax outdoors after the kids went to bed. I booked our campsite for Fourth of July weekend (because I'm American!), then forgot about it for a while.
Once the date drew closer, I started getting excited and entered full-blown planning mode. Taking a three-month-old baby and a toddler camping isn't a cakewalk. I made lists, ordered gear from eBay, prepped food, dragged stuff down from the attic. Carl had started to get nervous about trying something new, and I wanted to make sure everything ran smoothly. I planned our meals and our hikes, and left a lot of room for relaxing.
With all this preparation, you might expect that we encountered some catastrophe that ruined our weekend. Sorry to disappoint, but we had a smooth trip. and I look back on it with fondness. That said, we definitely learned a few things through the experience. If you are about to take off on a camping trip with your little kids, keep these tips in mind.
Plan an Easy Exit
Since we live so close to the Lake District, we naturally looked for a campsite there. We didn't want to drive for more than an hour to get to our campsite; that would take too much time out of our short weekend. This equally meant that we wouldn't have far to go if we needed to abandon ship and head home early. You just don't know when a tooth will cut through or illness will strike. I felt more confident going camping knowing that I had the option to back out if things started to go pear-shaped.
Forget the Tent and Book a Camping Pod
We didn't have a tent big enough for our family, but we were already aware of camping pods – wooden, a-frame buildings that sleep four people or so. Ours happened to have an electrical socket, but otherwise it was a waterproof shell with a door and a wooden floor. My dad says that if we didn't sleep in a tent, then we were glamping, not camping. Personally, I think the pod was ideal for our purposes. There isn't any way to make a tent dark inside, a big problem when you want two little kids to sleep at night. The pod had black-out curtains and didn't risk of falling down or blowing away. Plus you don't have to put it together while your toddler is running wild.
Look at the Site Map before You Book
By the time we booked our pod, many sites had filled their pods, so we didn't have many options. I picked one that looked ok in a location we liked near Ullswater. As Carl drove us up, he started talking about how he hoped we wouldn't be surrounded by other people all weekend. I started to get a bit uneasy. Sure enough, when we pulled in, we saw an ocean of campervans, cars and tents, with our pod (and nine others) among them. The atmosphere was really friendly, but it was a bit festival-like, and we would have preferred something quieter.
Remember to Baby Proof
After unloading our gear into the pod, we quickly became overwhelmed. The camp stove interested the toddler way too much, he would pull food out of the bags, and generally run around making mischief. On the second day, we noticed three hooks screwed into the ceiling of the pod. We repacked everything we weren't using, and hung it up, out of reach. Camping instantly became less stressful when our toddler couldn't get into things that were dangerous or messy. I definitely recommend keeping rucksacks or bags handy so that you can pack up anything you don't want your kids to play with. You can hang them up or lock them in the car and have some peace of mind that at least your toddler won't spill methylated spirit on his brother. (Disclaimer: that did not happen.)
As Always, Go with the Flow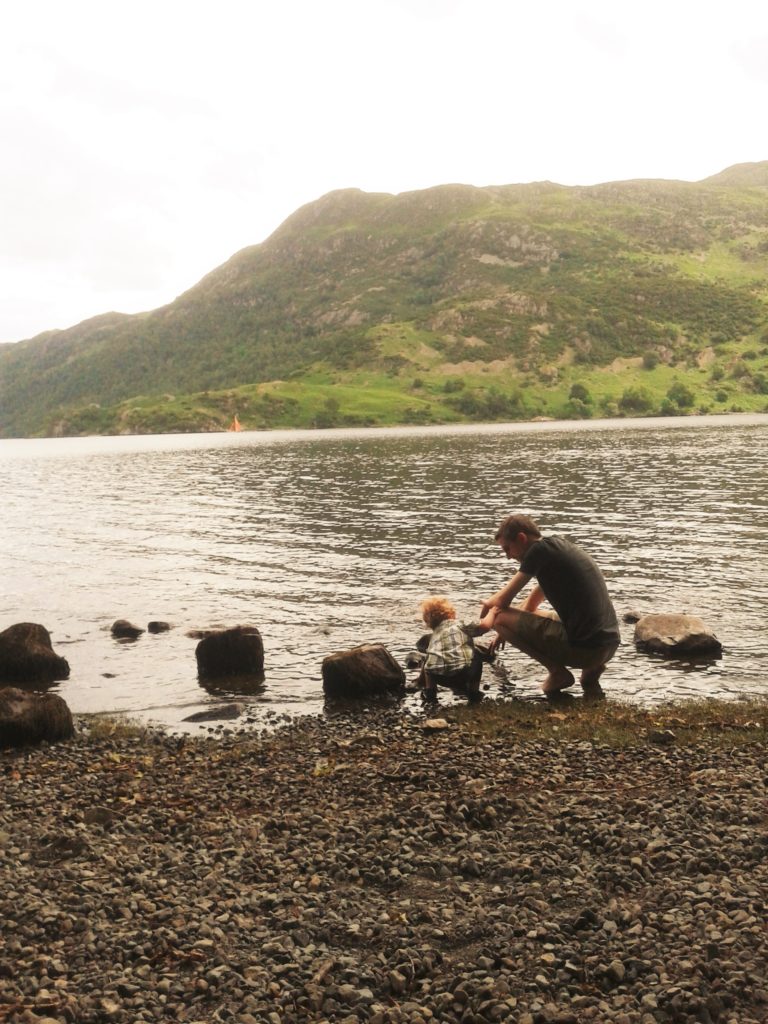 If I had amazing singing skills, I would turn this into a parody of 'Let It Go', complete with a music video of toddlers swimming. I don't have amazing singing skills, but the advice still stands. We got a little lost on one of our walks. N fell asleep in the car before we got to the pub where we planned to have lunch. I don't sleep amazingly well on a thin camping mattress. We felt a bit crowded at the campsite. Despite this, we saw a beautiful waterfall, admired scenic views over Ullswater, played at the edge of the lake, relaxed outside as the sun set. Ultimately, we had a good enough time that, in January, we booked another camping trip for this July.
Not every parent would take two such young kids camping. Carl and I feel, though, that you can't expect kids to suddenly love the outdoors if they have never spent time there. Two nights away from home is manageable. With a bit of planning, it is even fun, memorable, and a good change of pace from home. What excites me even more is that we are laying a foundation for an annual family tradition.